Top Choice
Painter
Runner Up
3D Coat
Best Value
Mari
Best Usage
Quixel
One of the most important things when making 3D assets is texturing. It allows the model to come to have color and brings in the details like lighting and shadows, and really makes it seem realistic or finished.
While some software provides designing, sculpting, and texturing all in one, texturing can often fall short or not have enough options to allow for a unique workflow.
That's why it is so important to find the right 3D texturing software for you. By finding the right one, you can make your 3D models look awesome, or even add some charm and depth to your more artistic style.
Whether you are just making a character, background, or scene, or you are looking for something more long-term like for a game or movie, finding a suitable 3D texturing software for your needs is essential.
If you want to learn more about 3D texturing softwares, including the top four softwares and common questions, continue reading below.
What Is the Best 3D Texturing Software?
The best 3D texturing software for you depends a lot on your preferences and previous experiences. However, some softwares are better in terms of design, features, and usability.
The most highly rated 3D texturing software includes:
In this article, we will discuss the top four 3D texturing software, as they are widely considered to be the best. However, if you try out these four and find them to not fit your style or preferences as well as you'd like, it is worth checking out some of the others. 
Substance Painter was an original software that was purchased by Adobe in recent years. It works well for any 3D texturing purpose, including movies, fashion, architecture, and games. You can make things as stylized or realistic as you want.
You can preview your work in real time, including path tracing and shading. Additionally, with every stroke and action recorded, you can go back and change the quality and resolution of your project without any problems.
This also means you can adjust or delete individual strokes without messing up the whole project.
Substance Painter Key Features:
Has a paint engine that features projection tools, brushes, and particles as well as presets
Smart materials and masks for realistic details
Real-life behaviors of certain materials like scattering, clear-coat, and sheen
Easy to export and send to other platforms or programs
Automatic UVs
VFX support like multi-tile painting, Python scripting, and VFX Reference Platform
Asset library with thousands of references, models, and materials
Substance Painter User Experience:
Adobe Substance Painter works well for beginners trying to get into the 3D texturing software or just 3D modeling in general.
Since Adobe offers multiple programs with its subscription, you can try out staging, materials, and texturing all with one platform, which makes moving things from one place to another easy and simple. 
Check out this course to get started with Substance Painter – Link Here
There are also plenty of guides and troubleshooting tips online, to make sure that anyone who puts time and effort into the program will know how to use it and will understand shortcuts without a problem. 
Substance Painter Cost:
Adobe prefers to do a monthly cost instead of one up-front payment. You can get Substance Painter for as little as $19.99 a month. This one works best for individuals. You get 30 assets a month, 100GB of storage, Bridge, Fonts, Behance, and Portfolio.
You also get access to other software from Adobe, including Sample, Designer, Painter, and 3D assets. You also have access to a variety of materials. 
The next option is $49.99 a month. This is also designed for individuals but gives you a few more professional options. You get 50 assets a month, 100GB of storage, and access to Bridge, Fonts, Behance, and Portfolio.
In addition to the software you get with the last version, you also get Modeler and Stager. In addition to access to materials, you get access to models and lighting as well.
Finally, the last payment option is designed more for teams. It is $99.99 a month. You get the same features as the previous payment plan. However, you get 100 assets per month per user, 1TB of storage, easy license management, and advanced support.
What We Like/Dislike About Substance Painter:
Like:
Works with plug-ins from third parties
Has an integration with Unreal Engine 4
Customizations for brushes
Previews for render
Smart Materials
Dislike:
Has been changed to a monthly payment since Adobe purchased it
Could use a little more integration with other platforms
Has a lot of options and functions that make it hard to find the right tool
Substance Painter Scoring:
We have to give Substance Painter a 9 out of 10. It is definitely our favorite software when it comes to texturing. We aren't a big fan of Adobe's focus on subscriptions instead of one-time purchases, but until something can come up that competes with the software, we will just have to accept it.
3D-Coat is one of the most advanced programs out there for 3D modeling and texturing. Instead of separating the different tasks such as sculpting, modeling, and texturing into different software, they are all combined into one software.
3D Coat combines everything you might need into one program, including sculpting, UV editing, PBR texture, painting, and rendering, so you don't have to export from software to software to get things done.
This means you don't have to learn dozens of different features or programs and make a lot of expensive purchases to get things done. You just have to learn one software to get to work.
It does this by having a variety of different workspaces, called rooms, where each step is completed to make things easy.
3D coat says it is good for people who want high-end sculpting, Voxel modeling, concept art, UV map design, hand-painted textures, and retopology tools all in one place.
3D-Coat Key Features:
Easy, fast, and friendly UV mapping
PBR and texturing are easy and simple
Dozens of sculpting brushes
No topological constraints
Adaptive dynamic tessellation
Smart materials with easy set-up options
3D-Coat User Experience:
It is easy to do just about anything you want with 3D-Coat. You can create models that are very detailed and bake out the textures. It isn't limited in what you can do, so if there is something unique or new you want to try, you can probably find a way to do it on 3D-Coat.
It also isn't that difficult to learn. While all 3D software have a bit of a learning curve thanks to their unique styles and programs, this one is pretty understandable so it is a bit quicker to pick up though it isn't super intuitive. 
Check out this course for a complete guide to 3DCoat – Link Here
Some similar programs like ZBrush have similar features and power, but they are painful to try and learn how to use, even if you are using them daily. It is a small team that does the development for 3D-Coat, but they work hard to provide constant upgrades and quality-of-life features.
The cost is also well worth it, with discounts or shorter purchasing options for those who want to just give the program a try without investing a large amount of money into them at once. 
3D-Coat Cost:
3D-Coat offers a lot of payment options. They offer different pricing and benefits for individuals, those in a company, and those teaching at a school with specific discounts for students and teachers.
In addition to these different prices and features, you can also choose different ways to pay. You can make one big purchase that is permanent so you never have to worry about fees again. However, you can also look at renting for a year, per month, or even do a rent-to-own program.
The cost ranges anywhere from about $5 to about $500, depending on the features you need.
What We Like/Dislike About 3D-Coat:
Like:
Can easily be used in PBR workflow
Works well with hand painting
UV work is fast and fun
Can be used for static imagery and animation
Cheaper than other similar apps
Works well for small businesses and individuals
Dislike:
Takes a lot of computing power, so may not work for every computer
The payment plans are a bit of a problem
Can be hard to use as it is a little different from other programs
It isn't intuitive to use
Interface can be a bit clumsy
3D-Coat Scoring:
3D-Coat gets an 8.2 out of 10. It really has everything in one place. For small creators or people just doing 3D designing and texturing as a hobby, it is a great software that allows you to get everything you need in one spot so you don't have to deal with multiple subscriptions or payments.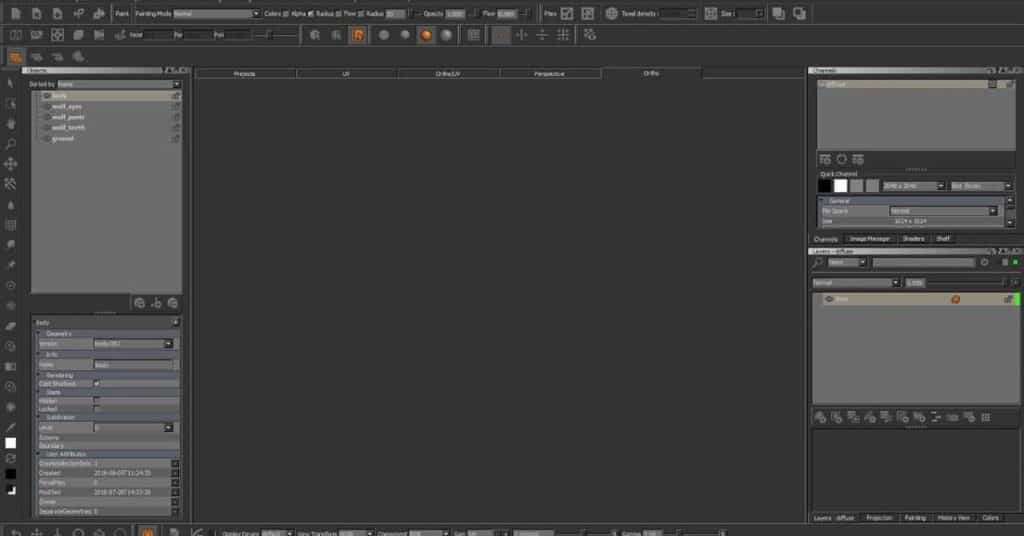 Mari is a powerful piece of software, capable of even some of the most intensive workflows while having a focus on how the program should feel in the hands of artists.
This software comes from Foundry, a company rooted in developing the tools needed for complete creative control since 1996. Mari is widely used in the movie industry as it is very powerful and capable software you can paint 8k diffuse and spec maps inside of Mari.
Mari Key Features:
Support for UDIM workflows
Projection-based painting system
Non-destructive layers and node graphs
Can create higher-volume assets without as much complexity
Has high production pipeline support, especially with programs like Python API and OCIO color management.
Also works with FBX, OBJ, Alembic, and OpenEXR
Can scale to over one million polygons without reduced speeds
Streamlined looks and development that looks right during the render
Mari User Experience:
It feels like a dream to use Mari. It allows you to preview your design anywhere down the line, which makes mistakes and surprises in your design far less of an issue than other software.
You can also work with a variety of models from different software and programs easily without any need to roundtrip a 3D application. This makes the design and process much more efficient. 
Mari is fast and painless to use when you get the hang of it. It has ease-of-use features that just can't be overlooked or underestimated.
Mari Cost:
Mari definitely isn't cheap. You are looking at a minimum of $689 a year or $68 a month to use this software. That provides you with a single license.
If you are looking for a bit more, they have options for $1,119 annually, which gives you node-locked and floating licenses. You can also rent for $789 a quarter to get node-locked and floating licenses.
What We Like/Dislike About Mari:
Like:
Offers a free trial
Can paint and texture directly on the model or design
Reduces the guesswork
Suitable for high-poly models with its use of PTEX instead of UVs
Can handle large texture sets, up to 32K textures easily
Dislike:
Could support more render engines
Need a very powerful GPU to use
Expensive, and not very practical for someone new to 3D modeling or looking to learn
Not object-oriented
Mari Scoring:
Mari is a tough one to score, but we decided a 7.5 out of 10 is fair. Though it is an amazing software that has pretty much everything you may need, it isn't designed with the average person in mind. Movies like Avatar were created with this software, which shows you what it is capable of.
However, by not including a cheaper option, it makes it less desirable to switch to later, as once someone gets the hang of 3D texturing and design, they may be unwilling to learn an entirely new system for no reason.
Quixel Mixer is a newer product that boasts how it revolutionizes the industry of painting and texturing thanks to technology like Megascans that fit smart materials to your 3D models in a natural or realistic fashion.
The company works closely with Epic Games, the developer, and publisher of the world-renowned game Fortnite. Along with input from those developing Unreal Engine 5, the product is in a great spot for future growth and we can see why when we use it.
Quixel Mixer Key Features:
Smart materials to make the main material design simple to use, while still allowing for a unique design
Can mix sculpting, painting layers, and procedural masks to make any material texture imaginable
Simple design that is easy to use
Smart materials based on Megascans library
No need to learn the heavily technical side of all the tools
Designed to work with Unreal Engine, Megascans, Bridge, and Blender
Quixel Mixer User Experience:
Quixel has a lot of potential. It makes the nitty-gritty of 3D texturing easy and a lot faster as you don't have to focus on tiny details or specific design tools that have to be adapted and adjusted to every need.
However, it is still in beta development and that is pretty obvious sometimes. The software shuts down more often than we would like, and some parts are buggy or laggy.
Quixel Mixer Cost:
Currently, Quixel Mixer is free. However, it really only works with the Unreal Engine as far as moving things through a pipeline and exporting. It is still in beta, so we will see if a cost gets included later on to allow for better exporting capabilities.
Additionally, while the software is free, using the Megascans library has costs that can build up per texture and textile use.
What We Like/Dislike About Quixel Mixer:
Like:
Very intuitive and pretty to use, especially if you have used Photoshop previously
Does amazing texture work and detail
It's free
Powerful software
Has a very large library of scans built-in
For those willing to do a bit of studying, it has a lot of potential to open up the software
Very close and helpful company
Dislike:
It is missing many features artists love, like the ability to delete layers
Needs a lot of GPU power
Free version is available, but only works with Unreal Engine
Still in beta, so some things don't work well or right every time
You do have to pay for some of the Megascans, and paying for individual textures can build up
Updates are slow and far between
Quixel Mixer Scoring:
Quixel Mixer is going to get a 6 out of 10 from us. It has a lot of potential, and if it gets past the beta phase, it might be a software that provides some competition to the other big companies. The fact that it is free and intuitive already makes it an excellent program for beginners.
But with the long wait time between new updates and the numerous issues with the software, it can't reach its potential anytime soon.
Best 3D Texturing Software FAQS
What Is the Easiest 3D Texturing Software?
SketchUp Free is considered to be a good one to start with. It has some limited options, but the skills and steps you use with SketchUp can easily be applied and scaled up later for more professional software options. Plus, it is free, so it won't hurt your pocket just to get started.
What Is the Best 3D Editor?
If you want to edit your 3D models before adding texture, Blender, Maya, and ZBrush are often considered to be some of the better ones that allow you to get more in-depth and create very detailed models. They can be animated or static to fit your needs.
How Do You Make a Good 3D Texture?
If you have gotten into 3D texturing, but are tired of using other textures from libraries, it may be time to create your own textures. There are many ways you can make your own 3D textures that are good and fit what you need.
If you want to use UV mapping, you can simply make a 2D graphic that you can then fit onto your 3D model. This is easily done in Photoshop. You can make textures or skins there.
Using Blender is also a fun way to make textures. You would use the Blender compositor panel to create and customize the textures of 3D models. You will need to understand Blender's node system first.
If you are good at formulas and scripting, using procedural texturing may be more your speed. Instead of creating a texture that has to be saved and stored, you can instead use a node system to create a basic design that isn't repetitive and works with your shapes. It takes a lot of skill and technique to learn though.
Some people also prefer to use actual photos to create texture. You'd create a texture cut out of a photo and apply that to your design. You'd have to cut, stretch, and adjust to fit your model, but it can make the design look a lot more realistic and is a slightly less technical option.
Hand drawing works similarly to photos, where you draw on your models similar to how you would color something on paper. Then you scan and import, overlaying your hand drawing over your models.
These are all made for basic, static designs. If you are looking to create animations and want to texture, you would have to get a lot more in-depth and need a bit more technical skills to make the texture move with your model. 
What Software Do Most Professional Artists Use?
The software needed by artists in general and 3D artists isn't always the same, but there is a lot of overlap. If you are looking to get into digital art, but aren't quite sure where to start, it is worth looking at some of the most popular software such as:
Affinity Photo
Clip Studio
Krita
Mental Canvas
Medibang Paint Pro
Assembly
These are a mix of paid and free software that allow you to perform various types of digital art, from sketches to full-on pieces. 
What Software Do Most Texture Artists Use?
For the most part, most texture artists use a mix of Adobe Photoshop, Adobe Substance Painter, and Mari.
This is also what most jobs for texture artists require as well, as these give people the most rounded understanding of texturing and allow them to adapt easily to any new software or design styles. 
In addition to those three, it is worth looking at or at least understanding the basics of Mudbox, Maya, and ZBrush.
Conclusion
What were your thoughts on these top four 3D texturing software? They are not only our favorites but are very popular among designers and artists everywhere.
They all have pros and cons that may make them preferable to certain styles or uses, but they have a lot of general features that work for almost everyone.
If you are unsure where to start, we recommend the Adobe Substance Painter. It comes with many software for a relatively cheap price and is pretty understandable if you've ever worked with anything Adobe before.